Community Engagement Workshop Riverside Park: Trails and Connections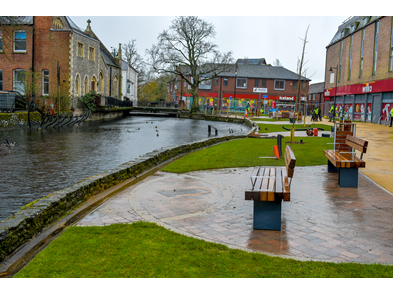 Description
The riverside area at the Town Mills in Andover is undergoing a transformation to create a new Riverside Park. Luscious new landscaping, brand new walkways and surfacing, and eye-catching features will really showcase the river to make it the perfect spot for people to relax, play, picnic and enjoy.
With funding available through Section 106 agreements for public art, Test Valley Borough Council have commissioned artist Alex Hoare to explore with the community the existing artworks that are situated there, and look at how the park and its environment might inspire ideas that can be translated into two new public art commissions for the park.
With this in mind there will be a community engagement event to explore Trails and Connections in the area at 11am, 12.30pm and 2pm on the 26 June. You will only need to join one of these sessions, which last approximately an hour and are led by a local artist. Pre-booking is not necessary, simply meet outside the Town Mills 5 minutes before your chosen session.
Activities during the Trails and Connections workshop include exploring the trails and connections from the park:
Make your own map of the park and record your memories/thoughts on it
Design a frame to record a walk around the park
Explore the poetry trail, thinking about how it connects parts of Andover
Contribute drawings and writings to our 'Creative Ideas Wall'
There will be additional sessions looking at Heritage and Environment on 20 June and River Stories on 4 July - also at 11.30am, 12.30pm and 2pm.
These sessions are arranged by Test Valley Borough Council and Andover Vision.
Event Details
Address:Riverside Park
Andover