Gift a Great Night Out
The perfect gift for family, friends or colleagues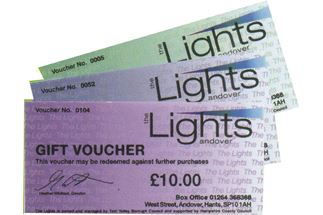 Gift a Great Night Out ............
The perfect gift for family, friends or colleagues -
Tickets for a Show
Choose from our professional comedy, music, dance, theatre or special interest programme.
Lights Gift Vouchers
Available in £1, £5, £10 or £20 vouchers which may be exchanged for shows, workshops or classes here at The Lights, and in the Arena cafe bar.
A Spotlight Membership
£20 buys a whole year of priority booking, discounted tickets and special offers.
N.B. There is no expiry date on Lights vouchers.
Contact the Box Office on 01264 368368